Yihe plans US processing expansion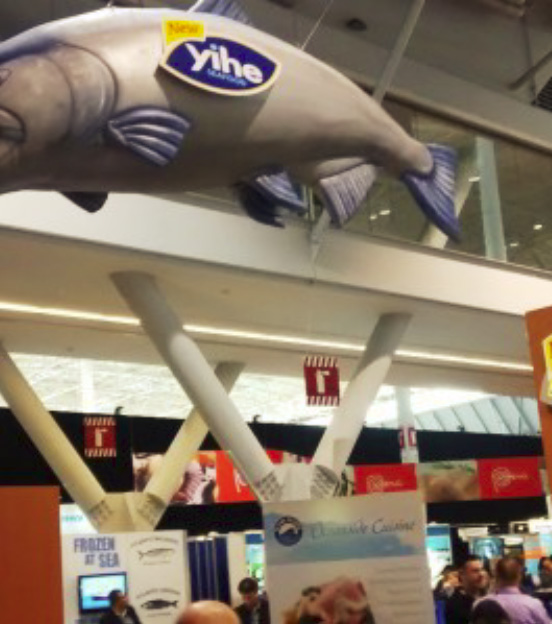 March 17, 2014, 6:54 pm
Yihe Corporation is starting processing salmon burgers again in a plant in Los Angeles, as it makes a return to the Boston seafood show that seemed unlikely last year.
The Pasadena, California-based company is back in business with new financial backing in China and a partnership with Resource One Holdings, the very same broker that put it into receivership, sparking a fascinating legal battle that was one of the stories of last year.
Steve Chen, who founded Yihe in 2004, told Undercurrent News the company is back processing salmon burgers in the US again, because of demand from some customers.
"We will do more processing in the US. We're leasing a workshop in LA, the same one we were using before, and we have the equipment in there for salmon burgers," he said.
The company was also planning to open a plant in Seattle last year, before it hit cash flow problems and went into receivership.
A plant on the west coast and one in Alaska are both things Chen is mulling.
Yihe's plans are part of more general trends, said Chen. "I can see more processing happening in Alaska, closer to where the fish is. With the costs of labor rising in China and the demands of customers, more processing will move back to the US over the next ten years."
Chen is still processing in the Qingdao Hairong Foodstuff plant in China, he said, but Chen himself plans to spend more time in the US.
His new financial partner, Junbin Yang, chairman of Fuhuang Group, is going to a role in the operations in China.
"Mr. Yang can offer support on cash flow and also assist with the plants in China. I can focus on relationships with the fishermen in Alaska and spend more time in the US," said Chen, who is a US citizen.
Yang also gives more access to resource, as he owns some fish farms, said Chen.
His involvement in Yihe is part of a trend of Chinese companies having to look to private capital, as banks are no longer willing to lend to the extent they were before.
This, said Ed Cuccio, the CEO and founder of the St. Louis, Missouri-based Resource One, makes the business model of the 'New Yihe" more solid.
Marital ups and downs
On the downstream side, the receivership process has ended up with Yihe and Resource One having a closer relationship, said Cucio.
"A partnership is like a marriage, sometimes you have tough times and you have to get through them and get out the other side," he said.
"For five and a half years, we built a significant business," he told Undercurrent. "Then we had six months where we had a rough time, largely down to cash-flow issues."
Cucio said Resource One is getting more closely involved with Yihe, handling sales and customer service, as well as support on supply chain, including forecasting, production planning, container transportation and tracking, inventory management and warehousing and transportation logistics.
Resource One is "a strong advocate of our supplier, we're more than just a broker" and this is part of that, said Michael Klein, its vice president of sales.
"Steve Chen and Yihe are winners in the value seafood category," he said.